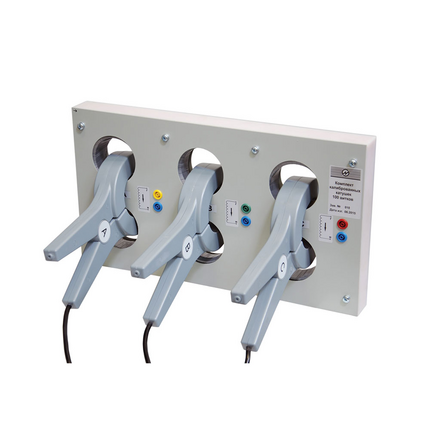 Blocks of 10, 20, 100, and 300-turn Сalibrated Сoils designed for calibration and accuracy testing of either instruments measuring current via contactless current sensors, or the current sensors themselves.
DESCRIPTION:
The Blocks of Calibrated Coils are designed for testing/calibration of:
Contactless current sensors (clip-on CTs of various types)
Measuring instruments together with the contactless current sensors
Testing/calibration can be performed on the MTS ME 3.1KM test system.
How it works:
The Calibrated Coils multiply the test current generated by the test system (or calibrator) by a factor dependent on the number of turns (10, 20, 100, 200, and 300) so that the equivalent current (applied to testing clip-on CTs) of up to 100, 200, 1000, 2000, and 3000A flows through the coils.
Features:
A state of the art design provides optimal heat dissipation and inductancecompensating characteristics.
Preset harmonics can be added to the test current of over 1000A so that the response of current measurement channels to the presence of individual harmonics, or total harmonic distortion characteristics of the system under test can be determined.  
The Calibrated Coils rated at 2000A and 3000A are equipped with a built-in cooler for long-term operation.
The built-in dual-capacitor Power Factor Correction system makes it possible to calibrate clip-on CTs of various types (current clamps and Rogowsky coils).
KT-3-10(-20)
KT-3-100
KT-1-200(-300)
Model

КТ-3-10(-20)

КТ-3-100

КТ-1-200(-300)

Type of clamps

Current clamps

 

Current clamps

 

Rogowsky Coils or current clamps

 

Rated current of clamps

10-100

100-1000

1000-3000

Type of Calibrating Coils

 

3-phase block of Calibrating Coils (10, 20 turns)

3-phase block of Calibrating Coils (100 turns)

Calibrating Coil (300 (200) turns)

Input current of Coils,

no more than, A

8

10

11

Output current of Coils,

no more than, A

80; 160

1000

3300
Documentation: